Proximity Reader



CARD READER EM 26 BIT Format.


Waterproof Keypad with RFID/EM Proximity Card Reader 125KHz Wiegand26 Format
Specifications:
Waterproof, designed for harsh weather
Durable keytop
Output mode: Standard Wiegand26 Format for access controller.
Voltage: DC 9~16V
Frequency: 125KHz
Read range: 3 ~ 15cm
Card Type: ID/EM
Dimension: 86mm x86mm x18mm



WG26 Weatherproof ID /EM Proximity Reader 125KHz White
Specifications:
Waterproof, designed for harsh weather
Input voltage/Current: 12VDC/20mA
Output mode: Standard Wiegand26 Format
Frequency: 125KHz
Read range: 0-8cm
Card Type: ID/EM
Dimension: 114mm*76mm*16mm
the cable manual label in the black of the Reader. Usually 12V Power input :Red and Black line. D0 & D1 data line:Output standard wiegand 26 big data.



HID PROXPOINT PLUS PROX CARD FOB READER 6005BGB00 SERIES
HID's ProxPoint Plus reader combines multiple configuration options with an attractive, inconspicuous design and economical price. Its secure potted electronics are ideal for both indoor and outdoor applications.

BRAND NEW
Small sized, low cost reader features a beeper and multicolor LED which can be host and/or locally controlled.
Potted reader suitable for indoor or outdoor use.
18" (45 cm) wire pigtail standard
Features a beeper and multicolor LED which can be hostand/ or locally controlled.
Can read HID cards with formats up to 85 bits.
New HID Proxpro 5355 Wall Switch Proximity Reader with Keypad 5355AGK00
The ProxProŽ proximity card reader's weatherproof design and architecturally attractive enclosure allows easy mounting indoors or out. The ProxPro Reader is ideal for applications requiring a larger read range.Ideal for medium-range applications.Sealed for indoor or outdoor use.Available in grayKeypad data and card data can be sent on the same cable, or on a separate cable using 2 of 7 or 3 x 4 matrix.

Key Features:
Affords high reliability, consistent read range characteristics, and low power consumption in a single, easy-to-install package.
Features multicolor LED, internal or host control of the LED, and/or beeper and a beeper "off" switch for silent operation.
Provides Wiegand protocol interface compatibility with all standard access control systems.
Offers an optional, fully integrated personal identification number keypad for heightened security. Can be mounted to glass (using the optional glass mounting kit).



Reader, multiCLASS SE RPK40, w/ Keypad, Wall Switch, 125 kHz Standard Prox Interpreter,
13.56 MHz Interpreter, Supports Secure Identity Object (SIO), Seos, Standard iCLASS HID
Access Control Application, MIFARE CSN & MIFARE DESFire CSN, Recommended Only For Maximum
Compatibility, Wiegand, Pigtail Connection, Black, Standard Security (Version 1) Keyset,
Factory Or Field Configurable, Specific Configuration Settings Including LED Normally Red,
Reader Beeps / Flashes LED Green On Card Read, Intelligent Power Management Includes Off,
CSN 32-Bit MSB, 26-Bit MSG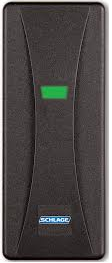 Brand New Schlage SXF1050B-B Mini Mullion Proximity Reader Access Control Black